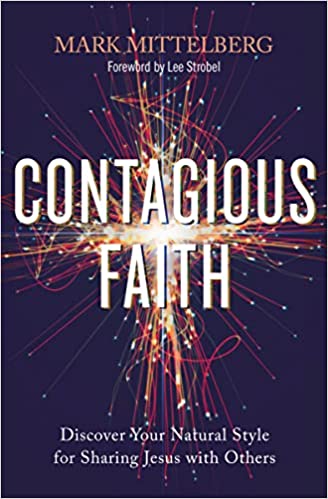 Published: October 5, 2021
Contagious Faith will prepare you to share God's love with others in a way that's authentic, comfortable, and impactful.
As disciples of Christ, we are called to share the gospel, but few of us are naturally comfortable with evangelism. We wrestle with internal fears, a lack of preparation, and the sense that reaching out to others might force us to act like someone we're not. What if we could find a way to talk about Jesus that fits our personalities, makes us feel confident, and ignites a fire in others?
In Contagious Faith, bestselling author and teacher Mark Mittelberg introduces five approaches to evangelism and helps you determine which of them fit best with your unique personality and style:
Friendship-Building

Selfless-Serving

Story-Sharing

Reason-Giving

Truth-Telling
He also explains in a down-to-earth fashion several key skills that will help you talk about Jesus effectively, illustrating his message with real-life accounts of ordinary believers who applied these principles for extraordinary impact.
With inspiring stories, fresh approaches, and timeless biblical wisdom, Contagious Faith will equip you to make a spiritual impact in the lives of the people around you—even in our increasingly resistant culture.